About Company:-
Acuvate Software is a leading global provider of innovative business solutions, consulting, technology, and outsourcing services. With a wide spectrum of services including Next Generation Intelligent Applications(AI), Business Process Innovation, Business Intelligence, ERP Support, Portals and Collaboration Management Solutions, Application Development and Infrastructure Support.
Partner with our customers to deliver innovative and cost effective solutions and create Excellence by providing Opportunities to people through well-defined Processes and progressive Learning in an Exuberant environment.
Click Here To Register For The Latest Offcampus Drives(B.E/B.Tech)
Company Name :– Acuvate Software Pvt. Ltd.
Company Website :- https://acuvate.com
Job Position :– Software Engineer
Work Location:- Bangalore
CTC :- Rs.15,150 Stipend For 6months ,After 2.5 Lpa
Eligibility:-
Good analytical skills, verbal, written communication,
SQL & Microsoft Business Intelligence is an added advantage
Should be flexible
BE/BTECH/MCA/MTECH – CS/IT/EEE/ECE (2018&2019 ONLY)
Should be willing to relocate anywhere in India
Drive Location :- Neil Rao towers, Plot No. 118, Road No.#3,, EPIP Phase1, Whitefield, Bengaluru, Karnataka 560066
Drive Date and Time:- On 7th September 2019 – 9 AM onwards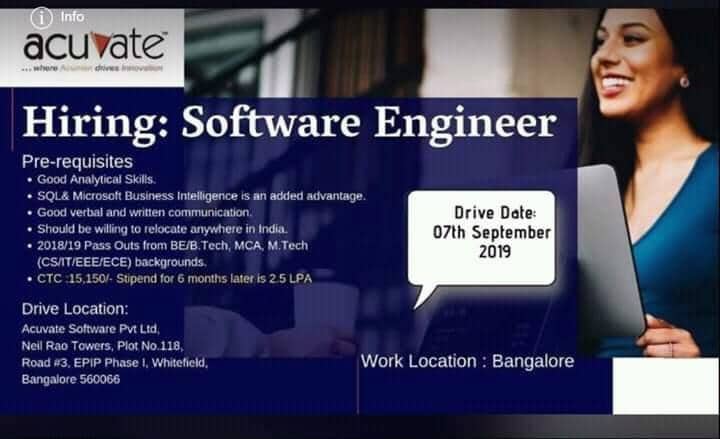 Click Here To Learn the Top Courses C,C++,Java,Python,Data Sceince,.Net ,Machine Learning ..and many more To Get Your Dream Job in Top Companies
Registration Form :-Click Here(register before the link expires)
Click Here To Download The Most Tricky Interview Questions With Detailed Answers and Previous Years Question Papers Of Wipro, Cognizant(CTS), TCS ,AMCAT,eLitmus With Detailed Solutons For Everyquestion
Join Facebook group more updates
Join Our Telegram Channel For Daily Job Updates