Bain&Company Recruitment:-
About Company:-
Bain & Company is one of the world's leading global business consulting firms, serving clients across six continents. It was founded in 1973 on the principle that consultants must measure their success in terms of their clients' financial results.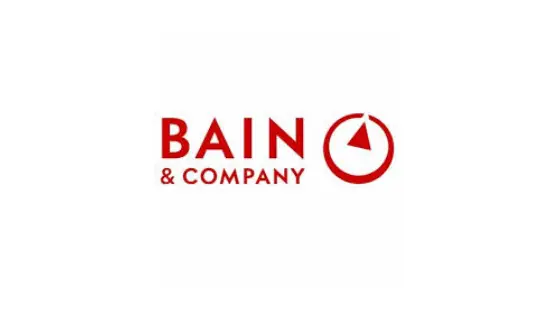 Bain's clients have outperformed the stock market 4 to 1. With offices globally in all major cities, Bain has worked with more than 4,150 major multinational and other corporations from every economic sector, in every region of the world.
Company Name :-  Bain & Company
Company Website:- www.bain.com
Job Position:- Intern
Job Location:-   Gurgaon
Qualification:-
– The position requires an enthusiastic team player, self-motivation and the ability to work both independently and as part of a team:
· Fresher/Graduate/Final year student from a reputed University in India/Abroad;
· Good MS Excel Skill with ability to handle complex data problems;
· Good interpersonal and communication skills, both written and oral
· Good organisational and quantitative skills with an aptitude for problem solving
· Ability to handle highly confidential information in a professional, mature manner; and
· Willingness to work in flexible work schedules based on global time-zone requirements.
Position Summary:-
Intern, Transfer Pricing will be a member of the Global Tax team of a preeminent global strategic management consulting firm and will assist the India based Global Transfer Pricing group in all procedural aspects of the global intercompany pricing arrangements between related business entities, including documentation of technique, know-how and other intellectual property, arm's length pricing, benefits and provision of services, as well as other intercompany transactions.
Duration of the internship is 6 months
Black Friday savings have arrived. Courses start at just $9.99.

*Get a Black Friday deal that turns into knowledge (instead of just clutter in your closet). Courses start
at $9.99. Enroll now!

*Enhance your mind this Black Friday with online courses starting at $9.99.

*Knowledge never goes out of style. Get courses from just $9.99 now.

*Your future starts here! How far can learning can take you? Enroll in a course today to find out.
Starting at $9.99.
Responsibilities and Duties:-
· Assist with data support and quantitative analysis by extracting relevant financial reports and preparing data summaries.
· Assist in preparing the global annual transfer pricing calculation including analysis of costs, revenue invoicing and documentation.
· Summarise various financial information using MS excel for the team.
· Day-to-day activities include analysis, invoicing and documentation of cross border transactions.
Bain&Company Recruitment Apply Link :- Click Here
Click Here To Download The Most Tricky Interview Questions With DetailedAnswers and Previous Years Question Papers Of Infosys,Wipro,Cognizant(CTS), TCS ,AMCAT,eLitmus With Detailed Solutons For Everyquestion
Like Facebook Page For daily job updates
Join Our Telegram Channel For Daily Job Updates
Also apply other off campus drives