10times off campus drive:-
About Company:-
10Times is the global leader in B2B event discovery and networking platform. We are disrupting the way people find, connect and engage at events like Trade shows and Conferences. We are looking for an X pert- Software Developer who is passionate technology evangelist, excited about designing and creating rich web applications in a fast-paced dynamic startup environment.
Click Here To Register For The Latest Offcampus Drives(B.E/B.Tech)
Company Name :– 10 times
Company Website :– https://10times.com
Job Position:-Software Developer
Location:- Noida, Uttar Pradesh
Experience Required :- 0 to 3 years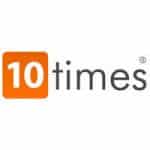 Click Here To Learn the Top Courses C,Java,Python,Data Sceince,.Net ,Machine Learning ..and many more To Get Your Dream Job in Top Companies
Job Description :- In this role, the developer would  be involved in every step of the process, from early idealization with Product Managers and Feature Teams to help define the product we build through to working with engineering to ensure the final product meets the highest quality bar.
If poor web experiences make you cringe, this role might be for you.
Responsibilities:-
Write code and architect/design features
Habitually writing efficient and readable code, having an appreciation for the same
Should be able to work from scratch independently based on the product/user requirements
Should be able to integrate with different applications using web services
Rapidly fix bugs and iterate on design everyday
Hands on in web server deployments and server configurations
Keeping himself updated with latest trends and technology in market
Required Skills (Technical):–
Knowledge of scripting language such as PHP and frameworks like symphony, Codeignitor, Mtools, Angular.JS, Backbone.JS
Client side development experience using XHTML, CSS, JavaScript, AJAX, JQuery and JSON
Good understanding of web standards, CSS-based design, cross-browser compatibility
Good understanding of web technologies (HTTP, Apache) and familiarity with Unix/Linux
Bonus points for experience working on DROOLS or any other rule-engine and SOAP/string based API integrations
To develop and work on Web and Mobile based products in LAMP environment

Required Skills (Soft Skill):–
Strong inter-personal skills, intense curiosity, and a desire and ability to "get things done.
We are looking for people who enjoy solving complex problems through analytical excellence
Should have 0-3 years of experience in the the same line of work
Required more then 75% marks in 10th, 12th and Graduation.
Data driven, and a logical problem solver
Solve security & scalability problems, keep the application running "REALLY" super fast 
Click Here To Download The Most Tricky Interview Questions With Detailed Answers and Previous Years Question Papers Of Infosys,Wipro,Cognizant(CTS), TCS ,AMCAT,eLitmus With Detailed Solutions For Everyquestion
Benefits:-
• Base salary plus performance based variable
• Career advancement opportunities
• Fast paced, fun, and energetic company with a friendly culture and more!
• Additional benefits like medical insurance, office lunches, etc.
10times Off campus Drive Apply Link :- Click Here
Join Facebook group For more updates
Join Our Telegram Channel For Daily Job Updates
Join Our Whatsup Group For Daily Latest Job Updates
Also apply other offcampus drives
More About 10times company :- 10times is used by millions every day to decide which event to go, whom to meet in over 10,000 cities across 150+ countries. In a few years, we should be able help point you to a great events to attend no matter what part of the world you're in and what opportunity you are seeking. off campus drive :-